Nashville musician connects new sounds and tradition with "Sunset"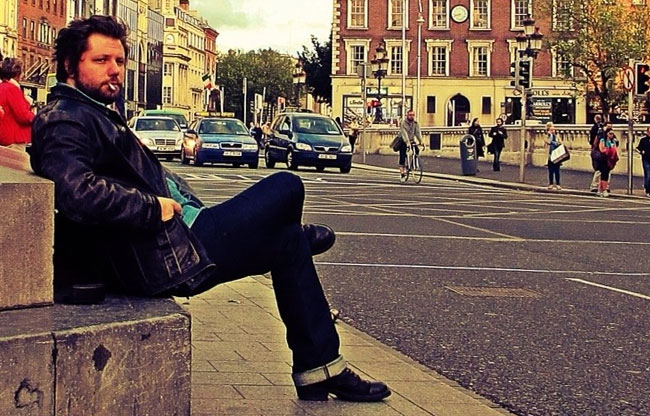 Ask anyone who has ever moved to Music City U.S.A. with dreams of making a living in the music business--whether as a singer, songwriter, producer, engineer, or musician, (take your pick)--nothing can quite prepare you for the variety of talent working in Nashville. Especially when you meet a musician like Jim Oblon who can do all of the above with grace, wit, and endless invention. It's enough to make most pickers go home.
Jim Oblon is, as his colleagues freely admit, a musician's musician; a superlative guitarist, bassist, drummer, writer, singer, arranger, and thinker of music. The kind of fellow that inspires even the most seasoned players to put aside an evening and go see him play live in a local club because he's too good to pass up. *And for their convenience, Jim appears every Tuesday at the FooBar in Nashville when he's not traveling. (Also check out Live from the Foobar now on iTunes)
As we discovered in our interview, this intriguing artist is also a great guy to talk to. And it's especially welcoming to find someone whose love for the blues radiates in his playing and his conversation. Jim's latest album Sunset puts all his gifts and inspired spirit on display with two serious cats for bandmates, drumming legend Jim Keltner and GRAMMY winning keyboardist Larry Goldings. It's a great introduction to Jim's democratic feel for American music. And a new album with some of Nashville's deep roster of talent is on the way.
Mr. Oblon is a longtime Epiphone fan and this spring, he's giving fans a chance to win some superb Epiphone goodies just by playing along to three original grooves he created. It's a great way for players around the world to show their stuff. Visit the contest page for details.
This spring, Jim is on tour with longtime friend and fan Paul Simon, a continuation of a musical friendship that began with Jim's multi-instrumental contributions to Simon's So Beautiful, So What.
---------------------------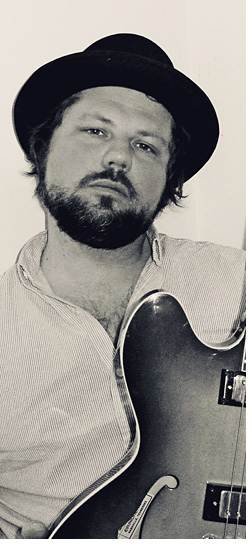 Thanks for speaking with Epiphone.com, Jim, and for the great tracks you contributed for our spring giveaway. How did you discover your love for music?
I grew up with a basement filled with instruments and that home was in Connecticut. One of my family members was going to college for classical organ, so I would go with her to a church and listen to her practice playing Bach... I was about age 5. I think because of that, around 12 years old, I studied classical guitar. I really wanted to improvise on these simple pieces. Unfortunately, that was a serious "no go" for the teacher. Later on I realized J.S. Bach would improvise 4 part inventions and then sing a 5th part over it.
I hung in there for two years, but that was the end of classical music lessons. Although my parents had a great record collection, there where not that many "guitar records." That bug bit me at around 12 years old. I remember seeing B.B. King at that time with Bobby Blue Bland and Ko Ko Taylor. That was a really incredible night. I started buying his records along with Albert Collins and Stevie Ray Vaughan.
Then later in life around age 23, my Aunt was getting rid of all these Chet Atkins records, and I saw a picture of him playing with a thumb pick. I thought "you can play electric guitar with a thumb pick?" Around that same time I was taking lessons on South Indian frame drum, and all these influences sort of came together. I could play with my fingers and a thumb pick and it was like the classical technique I learned and a frame drum. I saw Albert Collins playing with just his fingers and a light bulb went off. I started off practicing by playing blues licks with a thumb pick, and my style developed out of that. Guitar is certainly my main love now, more than anything else. But now, if I play with a flat pick, it's like watching a declawed cat trying to climb a tree!
Musicians who play multiple instruments have an easier time "hearing" the whole picture in terms of rhythm and structure. How does playing other instruments inform your guitar playing?
I think it helps in understanding the relationships between the instruments and how they fit together. It makes me realize that I need to play really good time on guitar. That way the bass player and drummer can be freed up to contribute creatively. It's not their sole job to hold down the time keeping. Everyone in a band has equal responsibility in that. At least, that's my opinion. One of my favorite bass tracks is on "Have You Ever Been (To Electric Ladyland)" and that's Jimi Hendrix on bass.
What Epiphone instruments have you been playing on the road and can you tell us some of the songs they get used on?
I've been using the new Ltd. Ed. Elitist "1966" Riviera. On tour, I get a guitar feature on a Chet Atkins arrangement of a tune called "Wheels." I use the Epiphone on that. Then I have to immediately switch to drumkit and play an African tune in 9--crazy switch! I'm also putting the finishing touches on a new record recorded in Nashville. The name of it is called Black Cat. I used the Riviera on that also. (Note: Jim is currently using one of the first Ltd Ed 1966 Elitist Riviera's produced for sale in Japan. We hope to expand the distribution and sale of this new Elitist model to other markets in the near future.)
When you're traveling, do you like to switch guitars depending on the song or do you prefer to stick to one instrument?
I have 3 main electric guitars. The Epiphone Ltd. Ed. "1966" Elitist Riviera, a '59 reissue Les Paul, and a Telecaster I put together with a roasted maple neck. I go through periods where I'll stick to one. But usually I bring two to a gig, and maybe play one on each set. But really, I think it's like being a little kid running around your house. You know the staircase so well that you can kind of fly up and down it without thinking. I think that's the reason why some people stick to 1 or 2 instruments.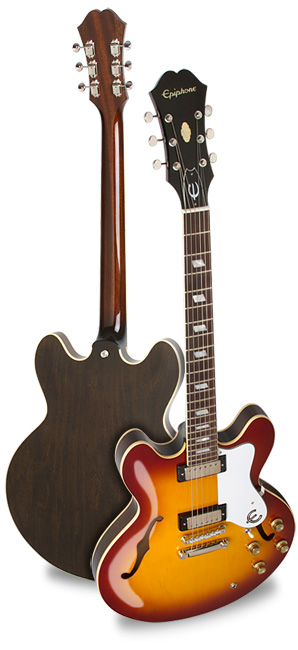 Do you find that you try to change your style a bit to accommodate the guitar you're playing? In other words, do archtops inspire a particular kind of musical approach compared to a solidbody?
Yes, a semi hollow guitar, like the Riviera, adds a "body warmth" that you can't get from a solid body guitar. Especially up top on the fret board, there is more warmth to the high notes. I think also, living with so much recorded history, I feel cool playing the Riviera knowing that Otis Rush played one.
Your latest album Sunset came out last year. It seems like it's a great portrait of all the different sounds and styles that inspire you. What was your inspiration for the album and for bringing in drummer Jim Keltner?
As far as the inspiration of making it, I'll answer honestly, and it's a bit strange. I write letters to God on my laptop, and then I put it in a folder. Once it goes in the folder, I consider it "sent". That year, I had made some extra money, and I thought "what should I do with it?" I put that question in a letter on my laptop, "sent it" and when I was walking along a canal in Georgetown, Washington D.C/, this idea came to me... "you should make an album with Jim Keltner". So I thought, "that's an amazing idea." Fifteen minutes later, I ran into my friend who had worked with Keltner and told him the idea. He called Jim, and then I called Jim, and we talked it out. I didn't have enough original material, so I brought 3 original tunes and about 13 new arrangements of old tunes. We did the album in two days, and everything is a first or second take. If we didn't get it 1st or 2nd take, we trashed the song and moved on to the next one. Keltner was so important to the project because he is a huge part of rock and roll history! If music has an army, Jim Keltner is a 5-star general. It was a dream band to work with him and Larry Goldings. They're the best!
You've been keeping a weekly show in Nashville. Are you surprised more guitarists don't take up that kind of show?
I like doing that because it's important to have a "workshop". You can practice at home but playing live with people you really like... there is no substitute for that. There are a lot of weekly gigs in town and most of those are on Broadway (Ed: Broadway is in downtown Nashville and home to a number of late night honky tonks).
I'm finding my way with writing and arranging. Some things work and some don't. It's nice to have a place to try stuff out. On Broadway, I think people are there to hear honky tonk music, and there is less experimenting going on. It's more of a "show." On this new record, there is a Sonny Terry cover, but the rest of the tunes are ones I wrote. So, that gig was a good place to try the tunes out before going into the studio.
Can you tell us who's on your upcoming record?
Sure, I'm the rhythm section on most of it. Playing guitar, bass and drums. In fact, there was a recent Paul Simon session where I played piano, maracas and some analog electronic sounds on his track. I thought, "I should make a record utilizing myself the way he does." I laid down the basic tracks. Justin Francis and Clint Lagerberg helped me with recording it. Then I called Pat Bergeson to play some harmonica, Bucky Baxter on pedal steel, and Dave Roe and Byron House laid down some acoustic bass. Pete Abbott is playing drums on a live-in-the-studio track. Also, Luke Bulla played fiddle on a track, and John Deaderick on harpsichord and some celeste. It's a record that could only be made in Nashville. The people I mentioned, I can't tell you how much respect I have for them, as people and as musicians.
Nashville's music community is constantly evolving. Where do you see the city is headed?
I don't want to answer that, I might get in trouble (laughs). People are so "passionate" about Nashville now. I was in Melbourne, Australia and there is a "Nashville style" hot chicken place. I found myself at the counter listening to Loretta Lynn and eating hot chicken... in Australia! Nashville has captured people's imaginations. Saying that, a lot of people want to bring back "authentic country music" or the "good old days". But Nashville had Johnny Cash, and once his record company thought he was irrelevant (and not making money) they dropped him like yesterday's newspaper. If that's the good old days, I want to move forward. They dropped a guy who helped invent country/rockabilly/rock and roll.
If we could make you a signature Epiphone, what would it be?
Oh man, let me think... maybe a Riviera, but no "f" holes, like on B.B. King's guitar. Then instead of mini-humbuckers, put some Firebird pickups in there. The finish would be black, with a red sparkle pickguard, and white knobs from an Epiphone Broadway. Then, find some cool headstock inlay from a pre-World War II Epiphone. Call it the Black Cat!
Let's inspire some of our fans to look back at your influences. If you had to pick the top five albums that have influenced you the most or that you think people need to hear, what would they be?
I might go over 5 a little bit...
1. Albert King, Lovejoy (Jim Keltner is on some of those tracks)
2. Freddie King, My Feeling for the Blues
3. B.B. King, Lucille
4. Blind Willie Johnson, Dark Was the Night
5. Khalifa Ould Eide & Dimi Mint Abba, Moorish Music From Mauritania
6. Roy Buchanan, Roy Buchanan
And if you can find one... Charley Patton, Screamin' and Hollerin' the Blues (Revenant Box set)